At Home System: Wireless

The Helpline At Home wireless system is ideal for seniors or at risk individuals who are looking for security when at home where they have no landline/phoneline installed. Professionally monitored 24/7 by the Helpline Emergency Response center, it allows you to maintain independence and confidence knowing you are safe should an incident occur in your home. Multiple button options are available including auto fall detection.
Simply press either the button you wear, or the integrated panel "Help" button and you will seamlessly connect via 2-way voice with our 24/7 emergency services dispatch. To ensure your family/friends/caregivers are aware, we'll always call your responding parties to let them know we have sent help for you.
At Home System: Wireless
Our standard Helpline At Home Wireless System comes with Helpline panel and one button, which can be worn as a wrist watch or as a neck pendant and monthly monitoring.
No landline required, works anywhere there is wireless coverage
At the press of a button connect via 2-way voice with our 24/7 monitoring station
Fall Detection pendant button available
Back-up battery for continued operation when the power is out
Water resistant: wear it in the bath or shower
Program in additional buttons or other safety accessories
Lightweight button (<.50oz)
Each Helpline system is unique
Please submit your inquiry below or call us at (705-523-7000 / 1-800-667-8019) so that we may customize a system for you. Thank you.
* No long-term contract or cancellation fees.
* Installation costs may apply, with multiple options to meet your needs; professional, pick-up or ship.
At Home Wireless System
Product Add-ons

At Home Wireless System
Product Add-ons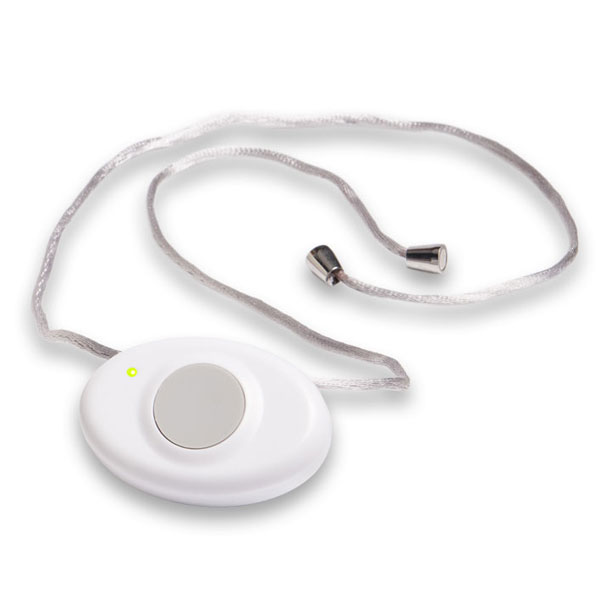 Auto Fall Detection Pendant
Paired with our Helpline At Home Systems, this lightweight fall detection pendant*, which is worn around the neck, will detect most falls and summon help when you are unable to press the button.
Water resistant and can be worn in the bath or shower
* The automatic fall detection pendant will not detect all falls; wherever possible subscribers should always press the button to place a call for assistance.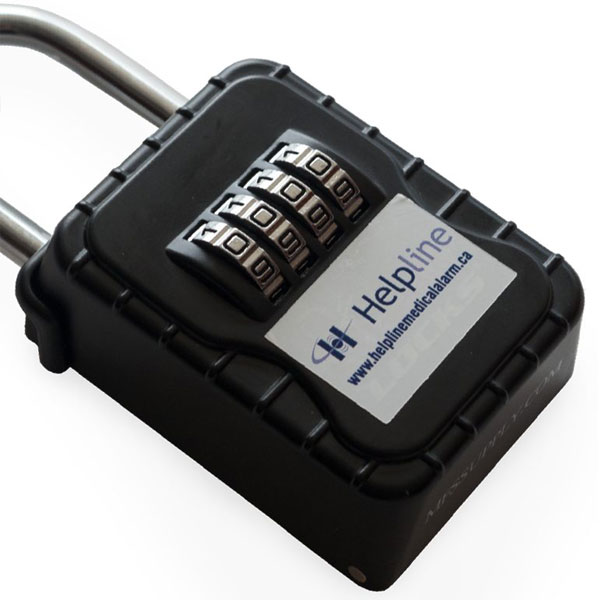 Key Lock Box
Worried about your door being broken down by Emergency Services? The purchase of a lock box may prevent a forced entry into your home. We recommend one for all installations.
Can be attached to door or secured railing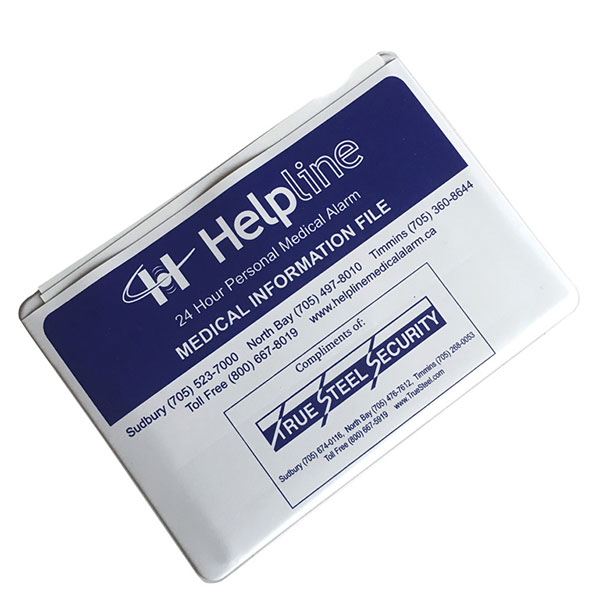 Medical Information Pouch
This pouch has your emergency contact information, name, address, medications and other information that would be vital for emergency personnel in a moment of crisis.
Easy access to all your information in one location
Be sure to ask for one when you contact us
Interested in learning more about these helpful add-ons?
Here's how our At Home Wireless System Works
Step One
Press Medical Alert Button
By pressing your Personal Helpline button, voice prompts and audible beeps reassure you that a connection is being established to our Emergency Response Dispatchers 24 hours a day, 7 days a week.
Step Two
Communicate with an Emergency Response Dispatcher
Our trained and certified Emergency Response Dispatchers 24/7 will attempt to speak to you through the At Home base station. In the event you are unable to speak to our Emergency Dispatchers, Emergency services will be dispatched to your location.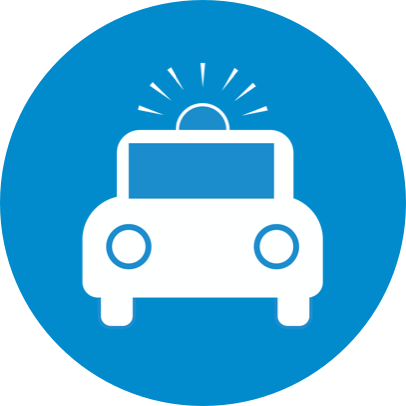 Step Three
Help is on the Way!
Our emergency dispatcher communicates with you to determine what kind of assistance is best for you and your situation. Emergency services can be dispatched to your location or if you prefer we can contact a family member or friend. Rest assured, if you are unable to respond, our dispatchers will dispatch ambulance to your location to safeguard your health and well-being.
Do you have questions?
Here are a few answers!

Do you have questions?
Here are a few answers!

What should I do if I accidentally pressed my button?
Don't worry – false alarms can and do happen!
The best thing to do in the event of a false alarm is to speak to the emergency dispatcher through the Helpline panel and notify them that it was an accident, and that you are doing just fine! Do not pick up your phone and try to contact us as we may be trying to call you. Our emergency response dispatchers are trained to send help if there is no voice contact, to be on the safe side!
What if my home loses power?
The Helpline At Home Wireless system has a built-in, rechargeable back-up battery that will keep it powered for up to 18-24 hours during an outage. As the Wireless At Home system communicates with cellular towers, it should be able to send signals during a power outage providing the cellular towers haven't lost power!
Will my Helpline button work outside of my home?
Our At Home Wireless system is designed for indoor use and although the button has a range of up to 200-300 FT in open air, this distance can be affected by many variables, such as home construction, obstacles…. If you are out and about and looking for security on the go, you may want to consider our "Home and On-the-Go System".
What if the battery in my personal help button goes low?
When the button battery becomes low, we will reach out to you to arrange a free replacement of your button. Helpline's button batteries last for years under normal circumstances, and rest assured, the button will continue to work while you are waiting for your replacement.
Can I shower with my button on?
Yes, buttons for the Helpline At Home systems are fully waterproof, and can handle your shower, bathtub, sink full of dishes, or other day-to-day water activities. This is an important feature, as one of the most common places to have a fall is getting in and out of the shower/bathtub, and Helpline is designed to give you security 24/7!
How do I communicate with the Emergency Dispatchers?
You can speak to our trained emergency dispatchers through the base station itself – not the button you wear. The button is what initiates the call to the monitoring station, so it's important to always wear your button.
What if I am unable to speak when I press the personal help button?
In the event we receive a medical signal and there is no response or we are unable to understand you, we will dispatch EMS to your location and notify responding parties of the dispatch.
Will Helpline affect my telephone service?
The At Home Wireless system communicates over cellular so there is no affect to your home telephone service.
Didn't see your question?

" I dealt with Andrea from the Helpline team in Sudbury. She was GREAT! She assisted with the ordering process and helped me set up the account for my Dad, easily and efficiently…" Read More

– Daughter of Client
" I can't thank you enough for the peace of mind you have provided me. This was a huge step for my mom, relinquishing any little bit of independence is so difficult for any senior but your demeanour, delivery, the way you spoke to her…" Read More

– Daughter of Client
" My sister has early stage vascular dementia and lives on her own. Care link Advantage and Help Line have been a tremendous help in assisting me as my sister's POA, with suggestions as to how we can keep her safe in her own apartment…" Read More

– POA and Sister of a Client

" Thank you Helpline for your service the past few years. It works – saved my Mom's life a few times! "
– Daughter of Client
Please fill out the form below!
Why can't I buy it right from here?
We care

– we want to do this right!
To hear about you and your loved ones' needs helps us customize to meet them best. One of our kind team members will reach out within one business day. If a more immediate response is required, please call us at 705-523-7000 / 1-800-667-8019 and ask to speak with someone from the Helpline Team. Thank you!