Home and On-the-Go System
Our Helpline Home and On-the-Go System provides immediate assistance while at home or out and about. As this system communicates through the cellular network, no home phone is required, providing you and your family, protection and peace of mind across Canada.
By pressing your pendant (or built in fall detection), communicate 24/7, via 2-way voice by speaking into the button with our professionally trained monitoring station dispatchers while at the same time your GPS location is being identified. Once emergency services have been dispatched we'll call your responding parties to make them aware help is on the way!
Home and On-the-Go System
Our standard Home and On-The-Go System comes with one button, worn around the neck as a pendant, or in a belt case and its own charging station.
Canada Wide Mobile 24/7 monitoring by a certified CSAA emergency response team
No home phone line required
LTE "4G" cellular connectivity
Built-in speakerphone with instant two-way voice communication to bilingual representatives. Multi-lingual services available
Optional automatic fall detection with false alarm cancellation feature *The automatic fall detection will not detect all falls; wherever possible subscribers should always press the button to place a call for assistance.
Weight is 74G (<.5lb)
Highly water-resistant; (IPX6) designed to be worn in the shower or bath
Up to 48 hours battery life
Device operates on the Roger's cellular network and requires that the device be in an area with Rogers Network coverage. As with all GPS location services, determination of location may not be possible, Multi-level buildings and other obstructions reduce the accuracy of exact location by GPS satellites
Monthly System Rental Including Monitoring $59.95
* No long-term contract or cancellation fees.
* One-time shipping & activation fee of $45.00.

Home and On-the-Go System
Product Add-ons

Home and On-the-Go System
Product Add-ons

Family Notifications
Included at no extra cost, the Family Notifications can alert you via text or email in the event the button has developed a low battery or has been powered off.
Multiple family members can receive alerts
Receive alerts via, text, email or both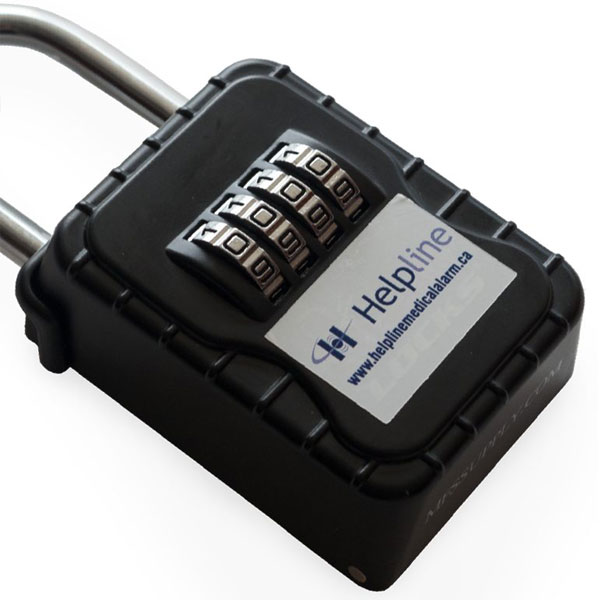 Key Lock Box
Worried about your door being broken down by Emergency Services? The purchase of a lock box may prevent a forced entry into your home. We recommend one for all installations.
Can be attached to door or secured railing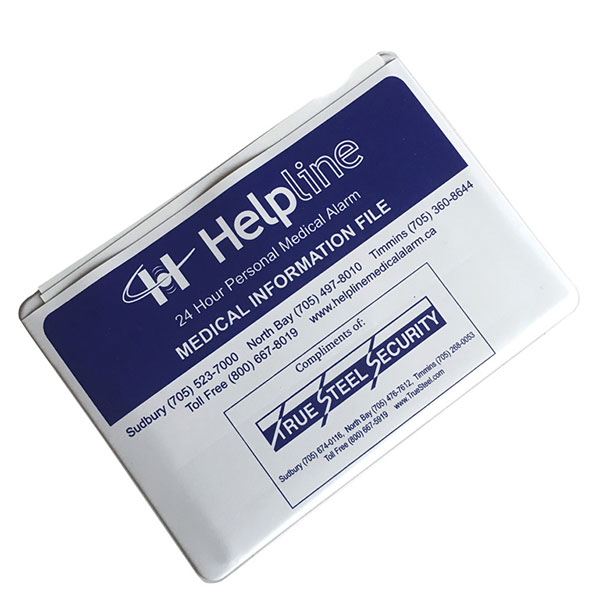 Medical Information Pouch
This pouch has your emergency contact information, name, address, medications and other information that would be vital for emergency personnel in a moment of crisis.
Easy access to all your information in one location
Be sure to ask for one when you contact us
Interested in learning more about these helpful add-ons?
Here's how our Home and On-the-Go System Works
Step One
Press Mobile Help Button
By pressing your Personal Mobile Helpline button (or using optional auto fall detection), voice prompts and audible beeps reassure you that a connection is being established to our Emergency Response Dispatchers 24 hours a day, 7 days a week.
Step Two
Communicate with an Emergency Response Dispatcher
Our trained and certified Emergency Response Dispatchers 24/7 will attempt to speak to you through the Home and On-the-Go button. In the event you are unable to speak to our Emergency Dispatchers through the button, emergency services will be dispatched to the GPS location provided by the button.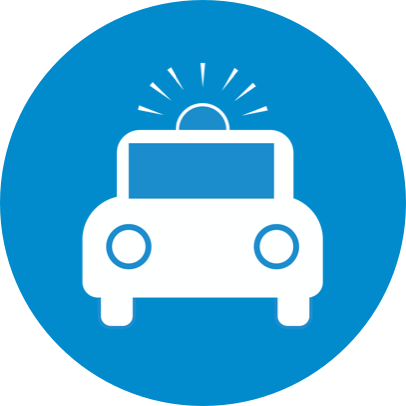 Step Three
Help is on the Way!
Our emergency dispatcher communicates with you to determine what kind of assistance is best for you and your situation. Emergency services can be dispatched to your location or if you prefer we can contact a family member or friend. Rest assured, if you are unable to respond, our dispatchers will dispatch ambulance to your location to safeguard your health and well-being.
Do you have questions?
Here are a few answers!

Do you have questions?
Here are a few answers!

What if my home loses power?
Both Helpline At Home Systems have a built-in, rechargeable back-up battery that will keep them powered for up to 36 hours during an outage. If your landline phone service continues to operate during a power outage, then your Landline At Home system will still be able to send in medical alerts. The Wireless At Home system communicates with cellular towers, and will always be able to send medical alerts during a power outage!
Your Home and On-the-Go System has an approximate 36-hour battery life, after which it will require AC Power to charge. This device will alert you in the event a low battery is detected.
I am going on vacation or living somewhere else for a while. Can I take my Helpline with me?
It is possible for your Helpline to be taken with you to another location, though it is important that we know where that location is, so we know where to send help! Please give us a call if you would like to bring your Helpline somewhere new so we may update your information.
Will the Home System work in the yard outside of my home?
Our At Home button is designed for indoor use and will effectively communicate in every corner of your house. The button is rated to a range of up to 300ft in open air, but since every home is constructed differently, some homes may deal with a shortened range. In many cases, the Helpline button will work in the areas immediately surrounding the outside of the home, such as the front step, driveway, back deck, etc.
For additional questions?

" I dealt with Andrea from the Helpline team in Sudbury. She was GREAT! She assisted with the ordering process and helped me set up the account for my Dad, easily and efficiently…" Read More

– Daughter of Client
" I can't thank you enough for the peace of mind you have provided me. This was a huge step for my mom, relinquishing any little bit of independence is so difficult for any senior but your demeanour, delivery, the way you spoke to her…" Read More

– Daughter of Client
" My sister has early stage vascular dementia and lives on her own. Care link Advantage and Help Line have been a tremendous help in assisting me as my sister's POA, with suggestions as to how we can keep her safe in her own apartment…" Read More

– POA and Sister of a Client

" Thank you Helpline for your service the past few years. It works – saved my Mom's life a few times! "
– Daughter of Client
Please fill out the form below!
Why can't I buy it right from here?
We care

– we want to do this right!
To hear about you and your loved ones' needs helps us customize to meet them best. One of our kind team members will reach out within one business day. If a more immediate response is required, please call us at 705-523-7000 / 1-800-667-8019 and ask to speak with some from the Helpline Team. Thank you!
Home and On-the-Go System: $59.95 / month